This occurrence has already passed
September 12
@ 7:00 pm to 9:30 pm CDT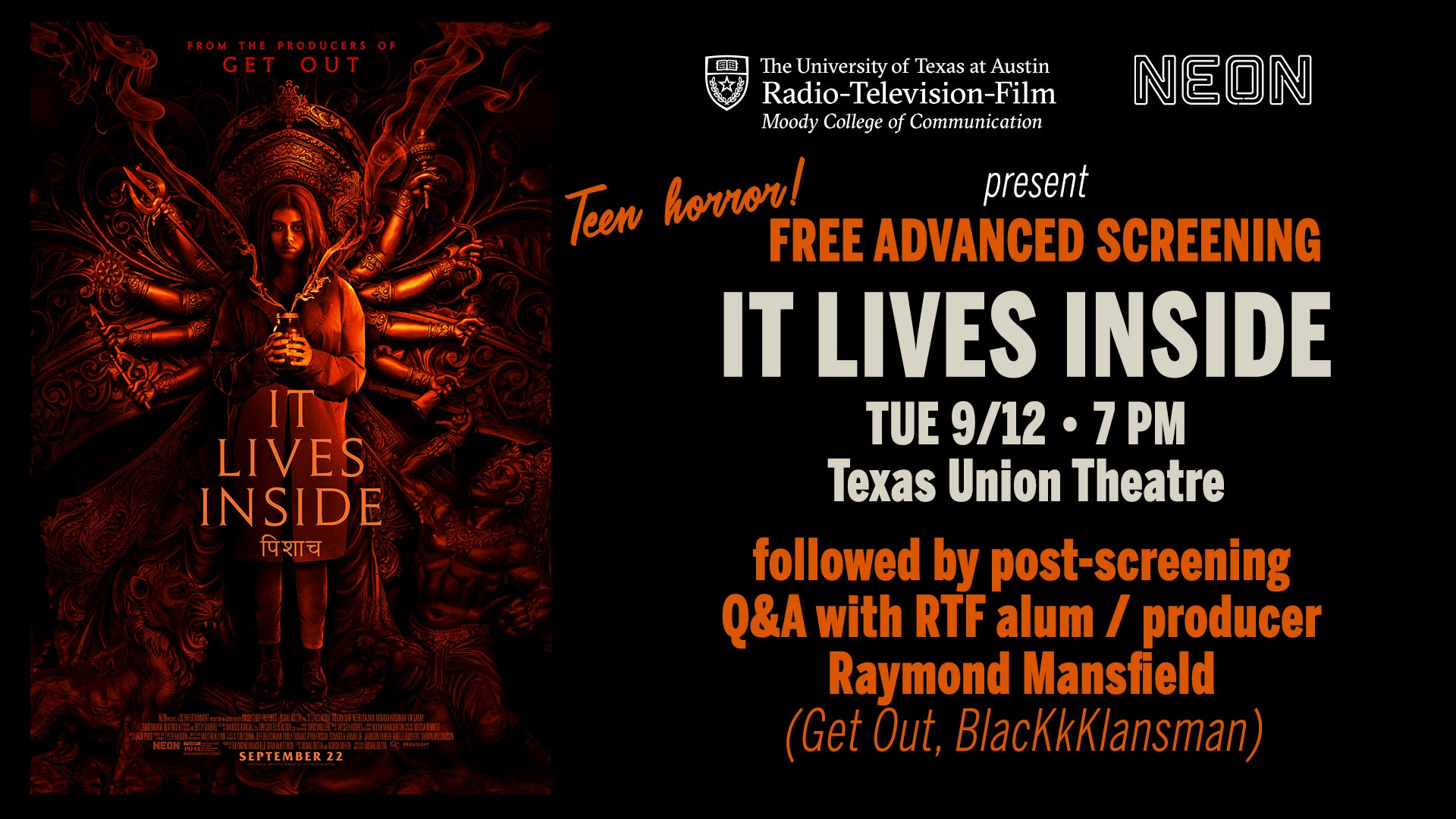 The Department of Radio-Television-Film and NEON are excited to bring to UT a free screening of the new teen horror film, IT LIVES INSIDE (99 min.), directed by Bishal Dutta. Winner of the Audience Award for the SXSW 2023 Midnighters category, IT LIVES INSIDE is scheduled to be released in theaters on September 22nd. It was produced by Radio-Television-Film alum Raymond Mansfield (GET OUT, BLACKKKLANSMAN), who will join us for a post-screening Q&A session facilitated by RTF Production Area Head Miguel Alvarez.
All are welcome to attend!
Synopsis:
Sam is desperate to fit in at school, rejecting her Indian culture and family to be like everyone else. When a mythological demonic spirit latches onto her former best friend, she must come to terms with her heritage in order to defeat it.
Raymond Mansfield | Producer
RAYMOND MANSFIELD is a veteran producer, financier and a founding partner of QC Entertainment. Mansfield's passion for storytelling has led him to a nearly 25-year career dedicated to shepherding a diverse array of filmmaker-driven films. Mansfield has been integrally involved in all aspects of film production, from financing to development, packaging, on-set production, and sales and distribution.
Since launching in 2015, QC—standing for Quality Control—has quickly become a go-to company for producing and financing distinct director-driven films and television. QC Entertainment are the Academy Award-nominated producers behind two of the most impactful films in the past decade – Get Out and BlacKkKlansman. Involved in every aspect from development to production to release, both films led to back-to-back Academy Award Best Picture nominations and Academy Award-winning screenplays for the producers along with being critical and commercial successes.
Most recently, Mansfield is serving as Executive Producer on Richie Mehta's true crime series Poacher. QC fully financed and produced the 8-episode first season of the show which follows Indian Forest Service officers, NGO workers, police constables and good samaritans who risk their lives investigating the largest ivory poaching ring in the history of India. Mansfield, alongside NEON, is also currently producing It Lives Inside, a PG-13 horror film written and directed by Bishal Dutta, marking his directorial debut. Starring Megan Suri and Betty Gabriel the story follows an Indian-American teenager struggling with her cultural identity who has a falling out with her former best friend and, in the process, unwittingly releases a demonic entity that grows stronger by feeding on her loneliness. Mansfield is also currently acting as Executive Producer on David Stassen's mockumentary Maximum Truth, co-written alongside the film's star Ike Barinholtz, and to be released by eOne. Dylan O'Brien, Max Minghella, Kiernan Shipka, Blake Anderson, Mark Proksh and Seth Rogan co-star.
In 2020, Mansfield served as Producer on Lionsgate's social thriller Antebellum. The film starring Janelle Monaé marked the feature directorial debut for Advocacy filmmakers Gerard Bush + Christopher Renz (Bush | Renz)—best known for their pioneering advertising work engaged in the fight for social justice. Marque Richardson, Eric Lange, Jack Huston, Kiersey Clemons, Tongayi Chirisa, Gabourey Sidibe, Rob Aramayo, Lily Cowles and Jena Malone co-star. Mansfield also served as Executive Producer on The Wrong Missy, a broad comedy co-produced with Adam Sandler's Happy Madison Productions. Upon its May 2020 release, the film quickly became among the Top Netflix films of all time with over 59 million subscribers watching in the first 28 days of release. Mansfield's past experience includes bringing Ron Stallworth's autobiography, Black Klansman, to QC Entertainment where he went on to develop and produce the film alongside QC's Sean McKittrick and Monkeypaw's Jordan Peele. Directed by visionary filmmaker Spike Lee, BlacKkKlansman had its World Premiere screening at the Cannes Film Festival where it won the Grand Prix and received a ten-minute standing ovation. The film went on to become a critical and global box office success including Lee winning his first Academy® Award for Best Adapted Screenplay and Academy® Award nominations for Best Picture, Best Director, Best Editing, Best Original Score, and Best Supporting Actor for Adam Driver.
Mansfield also served as producer on QC's The Oath, which marked Ike Barinholtz's feature directorial debut based on his original screenplay. The film starred Barinholtz and Tiffany Haddish and featured an ensemble cast including Nora Dunn, Jon Barinhotz, Carrie Brownstein and John Cho. The film was selected by the Library of Congress for their 2018 National Film Registry, "for purposes of preservation in the national collection...to benefit the culture of the United States of America." In addition, he served as producer on QC's feature Time Freak directed by Andrew Bowler. The film starred Asa Butterfield and Sophie Turner, and was adapted from Bowler's Academy Award® nominated short film of the same name.
Mansfield served as Executive Producer on Jordan Peele's feature directorial debut Get Out, which QC developed, produced and financed from the initial pitch through its successful release. The acclaimed film became a global box office smash, culminating with Peele winning an Academy Award® for Best Original Screenplay, and Academy Award® nominations for Best Picture, Best Director, and Best Actor for Daniel Kaluuya. Other QC projects include Zoe Lister-Jones' directorial debut, Band Aid, starring Lister-Jones, Adam Pally and Fred Armisen. QC financed and produced the film which was led by an all-female production crew and premiered at the 2017 Sundance Film Festival in the U.S. Dramatic Competition section; Pride & Prejudice & Zombies, written and directed by Burr Steers, a fresh twist on Jane Austen's classic, released by Screen Gems in 2016; and A Futile & Stupid Gesture, directed by David Wain and starring Will Forte, Domhnall Gleeson and Joel McHale, which was released by Netflix following its World Premiere at the 2018 Sundance Film Festival.
Prior to QC, Mansfield was Co-Founder & Co-President of Movie Package Company (MPC), a packaging/finance/production company with a focus on the business aspects of filmmaking, structuring risk mitigated investment opportunities for financiers interested in the field of entertainment. Over the course of his career, Mansfield has raised over $250 million for film "packaging": development, production and distribution financing which included structuring numerous finance models, and negotiated worldwide distribution deals, intellectual property deals, and above-the-line talent deals. Mansfield's highlights prior to QC include The Messenger, directed by Academy Award® nominee Oren Moverman and starring Academy Award® nominee Woody Harrelson, Ben Foster, Steve Buscemi and Samantha Morton, which received multiple Academy Award® nominations including Best Screenplay & Best Lead Actor; crime-thriller, Dog Eat Dog, written and directed by two-time Golden Globe and Palme d'Or nominee Paul Schrader, and starring Academy Award® winner Nicolas Cage and Academy Award® nominee Willem Dafoe, which closed the Cannes International Film Festival 2016 Director's Fortnight; Kumiko, The Treasure Hunter, starring Academy Award® nominee Rinko Kikuchi which was co-produced by Academy Award® winner Alexander Payne and went on to garner multiple Independent Spirit Award nominations; and And So It Goes, directed by Academy Award® nominee Rob Reiner, and starring Academy Award® winners Michael Douglas and Diane Keaton.
Over the course of his career, Mansfield has Produced, Executive Produced or been a production executive on films which have garnered twelve Academy Award® nominations (incl. two wins), seven Golden Globe nominations (incl. one win), seven BAFTA nominations (incl. one win), two AFI Awards for Movie of the Year, a Grammy Award for "Best Instrumental Composition," and other prestigious nominations and wins including from the DGA, WGA, SAG and PGA (including Get Out being honored with the Stanley Kramer Award). The films have also premiered and received awards at the world's leading film festivals including Cannes, Toronto, Sundance, Berlin and SXSW.
Details
Start Date: September 12 @ 7:00pm
End Date: September 12 @ 9:30pm
Event Categories: Screening
Location: Texas Union Theatre
Other
Target audience: Alumni , Faculty , General Public , Staff , Students